Dr. Stone Celebrated Senku's Birthday by Releasing New Poster
Senku's birthday was on the 4th January. But do you know January 4 is important in Japan. As the country celebrates the materials found in the Earth's crust. Moreover, which can be translated as 'Stone Day'. Official Twitter account for Dr Stone tweeted New Poster to celebrate this occasion.
Dr. Stone was one of the best Anime of 2019. Moreover, the Season holds 8.49 Rating on IMDb. Anime fans all over the world are loving this anime. After the end of season 1 of this anime, people are eagerly waiting for the next part. The Season one ended but left a few unanswered questions behind like – What causes Petrification? you can read some theories about it here. What Caused Petrification In Dr. Stone Anime?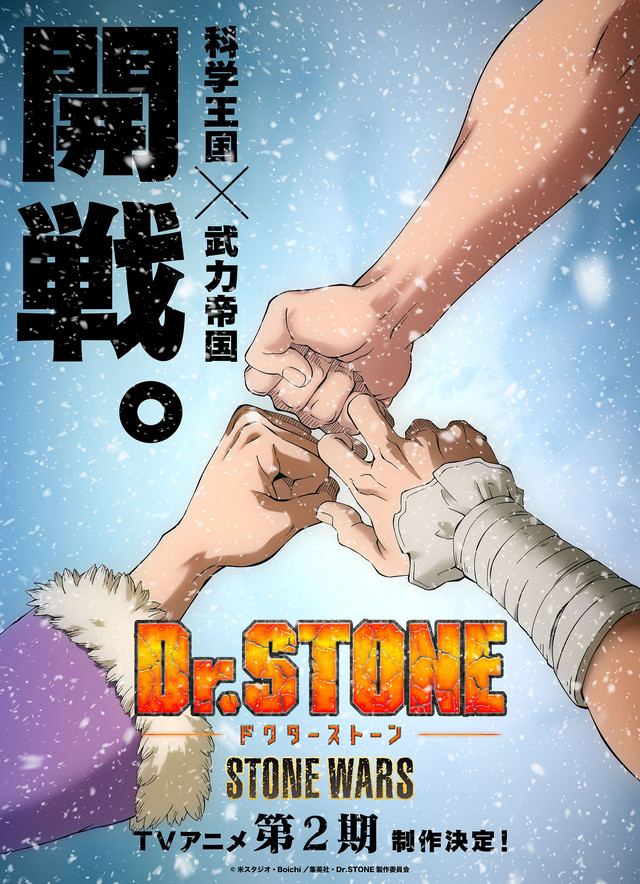 Furthermore, The poster Reads,
"War begins. Kingdom of Science vs. Empire of Might."
"Season 2 of the TV anime currently in production!"
The poster goes along with the teaser launched earlier. On 22nd December. TOHO animation  Released an updated teaser for the second season of Dr. Stone. The updated teaser debuted at the Jump fest event. Moreover, it features a finalized shot of Senkū, Chrome, and Gen joining fists. This was their vow to fight until the final battle.
Dr. Stone Season 2 Plot.
Dr. Stone's first season had a decent ending. What do we expect from Dr Stone S2? Well, according to our sources, the anime will cover up some sparring of both the Kingdom of science and Tsukasa's empire. We might see Taiju and Yuzuriha returning back on screen in the second season as well. That being said, Dr. Stone season 2 will bring more funny-action packed episodes to make your day. The anime will cover up the Stone Wars arc from the manga, said to be one of the most popular. The second season will focus on the "Stone Wars" story arc from the manga.
That's what we have, for now, Also read: