Hey Guys, in this blog we are going to discuss Kaguya-sama: Love is War Season 2. The anime – Kaguya-sama: Love is War is famous among anime fans for being one of the best romcoms. It is a short anime with just 12 episodes. But still, it managed to become one of the most discussed anime of 2019. Moreover, Love is war wins the 65th Shogakukan Manga Award of 2019 in the general category.
Kaguya-sama: Love is War Plot
The Story is about Miyuki Shirogane and  Kaguya Shinomiya. Miyuki is the student council president who is the top student of the school and well-known for his prefecture. On the other hand, Kaguya is the daughter of a wealthy conglomerate family. In this romantic and funny series, they both appear to be the perfect couple for each other. Even they like each other. But, they are too proud to confess their love. Besides, they think whoever confesses first would lose. Further, the anime follows their funny attempts to make the other confess.
Also read: Dragon Ball Super 2 Continuation Possible?
Characters
There five main characters in the show. Namely – Kaguya, Miyuki, Chika, Yū and Miko. Apart from these, there are around nine supporting characters. These Characters play a very important part in this romcom.
For those who are unaware of the anime. Let me give a brief about these characters.
1. Kaguya.
Main Character of the series. She was born in a High-class rich family As her family owns one of the largest businesses in Japan. Moreover, She is known for her beauty, intelligence and wealth. Besides, she is the vice president of the student council. Apart from engaging in student council work, she is in the Archery club. On the first look, She appears to be Cold and Prideful. But at her heart, she is an innocent, kind and fair-minded teenage girl.
2. Miyuki.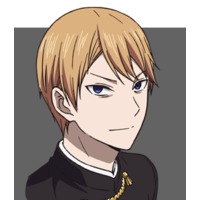 The male protagonist of the series. Moreover, he is the council president and the top student of his university. Besides, he was placed second overall in national mock exams. He is always into books so he is very inexperienced in romance and loves the stuff. Because he is always in the books he has messy hair, dark circles around his eyes, and glaring look. He has to do part-time jobs as his father is unemployed. Moreover, his mom left the family when he was a kid.
3. Chika.
A cheerful and friendly girl who is the student council secretary. Furthermore, She has been friends with Kaguya since childhood. She is a cute girl with fair skin, silver hair (light pink in the anime) and blue eyes.
She comes from a political family. Her great-grandfather was once the prime minister. Her uncle is a government official and her mother is a diplomat. Moreover, she got a younger and older sister. Her father is quite strict. And a part of this family is her dog Pesu.
She is an average student when it comes to academics but she has got many other talents. Like – Music, volleyball,  traditional dancing, etc. Moreover, her grades have dropped because of all the time she spends dealing with Miyuki and Kaguya.
Also read: Made in Abyss Season 2 Release Date
4. Yū.
Yu is a dark-haired boy who is an underclassman to the other characters. Moreover, he is the treasurer of the student council. His father is a small toy manufacturer who forces him to go to school.
Most of the time Yu plays a game on his portable console with headphones on but on the other hand he is a great observer. In the series, we can see him catching things that others do not wish to reveal. But this ability of his generally put him in trouble.
5. Miko.
A member of the discipline committee and classmate of Yu. As the discipline in charge, she wants to add some strict rules in the school. Some of these are making guys have crew cuts, having girls wear long skirts, and banning relationships. Academically she is at the top of her class but she is not a good public speaker. Moreover, Miko comes from a family of skilled attorneys.
Kaguya Sama Season 2
The anime adaptation started on January 12, 2019, and continued till March 30, 2019. The series was 12 episodes long and Mamoru Hatakeyama gets the credit for directing it. Besides, Yasuhiro Nakanishi was the one who wrote it and music is given by Kei. A-1 Pictures Inc being the studio. It was broadcasted on MBS, Tokyo MX, BS11, Gunma TV, Tochigi TV, Chukyo TV, and TV Niigata. While it's online distribution was on Crunchyroll, Hulu, and FunimationNow.
About Kaguya Sama Manga
Kaguya-sama: Love is War manga is currently running and this is good news as it ensures that the further seasons will come. Written by Aka Akasaka. The manga originally came out in May 2015. Up until now, it has completed 17 volumes. Earlier it used to come in Miracle Jump but now it comes on Weekly Young Jump. Besides, a spin-off manga also exists. It is called – "Kaguya Wants to be Confessed to – Dōjin Edition".
Live-Action
In February 2019, a live-action film adaptation for the series was announced. Which was premiered in Japan on September 6, 2019? Sho Hirano was in the role of Miyuki Shirogane, and Kanna Hashimoto was in the role of Kaguya Shinomiya. Hayato Kawai directed the film. Yūichi Tokunaga wrote the screenplay.
About the Studio
Founded in 2005 – A-1 Pictures is one of the most famous Japanese Animation studios around. It has given us many masterpieces. Some of which are. Your Lie in April. Love is war. Fairy Tail. Black Butler. The seven deadly sins. Erased. Sword Art Online etc. This studio is responsible for some of the best anime movies too. Some of which are Black Butler: Book of the Atlantic. Sword Art Online The Movie: Ordinal Scale. Fairy Tail: Dragon Cry. The Seven Deadly Sins the Movie: Prisoners of the Sky. Moreover, some awesome OVAs are also made by them.
Love is War Season 2 Release Date and Spoilers
The official trailer of Kaguya Sama Season 2 is out. You can watch the video below.
According to our sources – "Kaguya-sama: Love Is War" season 2 is confirmed to premiere in April. But no date is given out yet. Moreover, the fans will have to wait for the specific release date announcement. But everyone is excited and there is no doubt about this.
As long as the story for the 2nd season of Love is War is concerned. It is sure that this bond between the lead characters will grow closer and stronger. But, the possibility of a confession happening depends on the number of chapters covered.
Love is War Season 2 Spoilers
The second season of Kaguya Sama will be revolving around the time when students council election is taking place. Moreover, a new character would be playing a major role in this season. Furthermore, this season will shed some light on the past of existing characters which may help us in understanding the characters better.
It would be fun to watch Miyuki initiating a re-election campaign to retain his position as the president. We know Love is War season 2 will not fail to entertain us.
Release Date
Kaguya-sama: Love is War Season 2 release date is confirmed to be released on Saturday 11 April 2020 at 11:30 PM JST. Moreover, the details regarding official streaming platforms are yet to be revealed. Click here to read more about Best Anime Streaming Websites.
Updates: Love is War Season 2 will broadcast on Japanese TV from April 11.
Also read: Vinland Saga Season 2 Release Date
Key Visuals
Recently, key visuals of the series were also released.