The previous chapter featured the awakening of Shigaraki as his subordinates were able to buy him some time to heal. He uses the little strength he has left to summon all the Bonus and now the real battle begins.
Will Deku be able to handle his new quirk? Is Endeavour going to die? In this blog, we will discuss everything there is to know about My Hero Academia Chapter 296 Release Date and Updates.
My Hero Academia Chapter 296 Updates
I seriously can not stop thinking about the 4th user after we learned his quirk was "Danger Detection" it makes me question how much sorrow & misery that affected him because of it even All might wants to hide from Deku #mha #MyHeroAcademia #myheroacademia295 pic.twitter.com/vgtIMomquP

— Fresh Cake Baker 🍰 (@BrightShadow27) December 20, 2020
Is My Hero Academia Chapter 296 on delay?
Yes, My Hero Academia Chapter 296 is on a one week delay along with the other ongoing manga. Due to this being a holiday season, the artists and manga team need to spend time with their families and also take a break. Besides, one week isn't so bad.
My Hero Academia Chapter 296 Release Date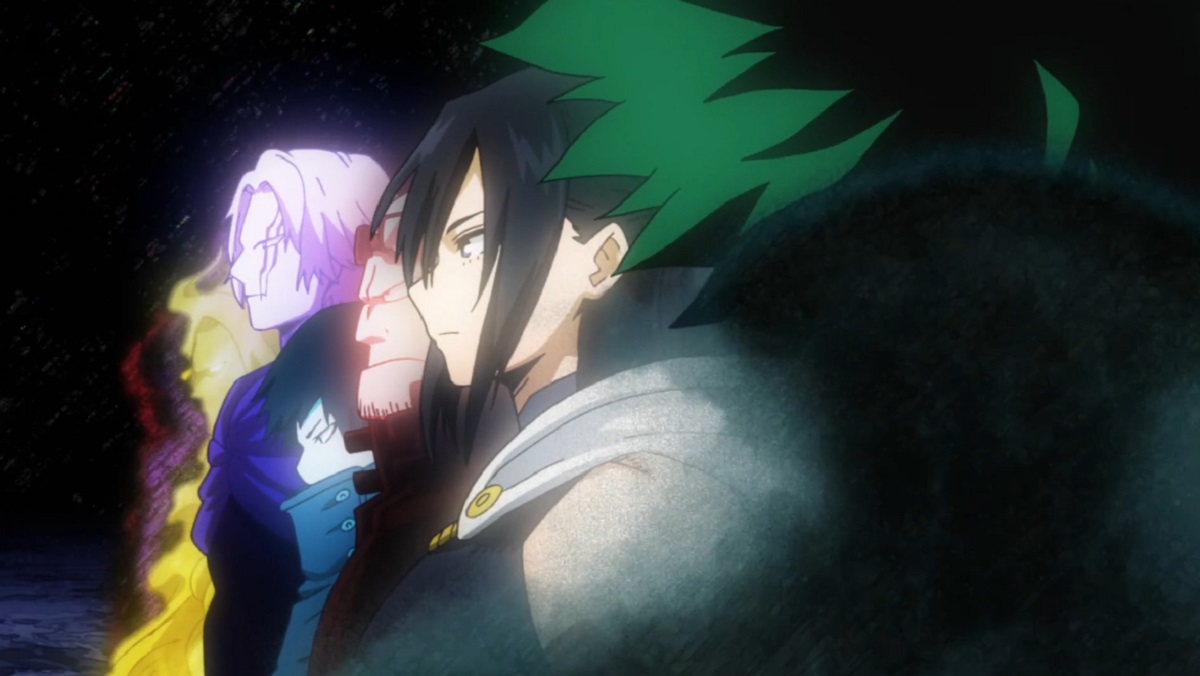 Due to there being a delay in next week's chapter, My Hero Academia Chapter 296 will release on 3rd January 2021. The next chapter will feature the heroes taking on the Nomus and also Deku might be able to get back on his feet. There is a possibility to see what's happening between Todoroki and Dabi. Stay updated with us to know more about My Hero Academia Chapter 296. This article will be updated in the event of any change regarding the release date.
Recommended Tonikawa Season 2, OVA Confirmed for 2021
Summary of MHA Chapter 295
Deku wakes up after Dabi's blast and finds Shoto to be doing fine. He suddenly feels a painful sensation in his head. This feeling makes him wonder if he has awakened his new quirk.
He suspects it to be the 4th user's quirk that helps him sense any danger that might occur. But his body isn't able to withstand such power as he is in a very terrible state.
Compress is successful in buying Shigaraki time as he battles with Lemillion. All for One guides Tomura into using his power to summon the Nomus.
Deku in his wounded states screams at Tomura that he will never forgive him for all the deaths he has caused. Although he had committed all these crimes, Deku states that his face looked as if he was asking for help.
Must Read One Piece Chapter 1000 Release Date Predictions, Latest Updates!
My Hero Academia Chapter 296 Predictions and speculations
My Hero Academia Chapter 296 can go both ways. It can give us goosebumps and offer tremendous fan service or it could kill off a certain character that would ruin all our expectations. Now that Shgaraki has awakened his potential, Deku faces an even bigger threat.
But all is not lost as Deku himself has gotten a new power awakening. Fans are calling it the spider-sense. This quirk of his belonged to the 4th user of One for All. It enhances the user's battle presence and instinct allowing them to be extremely cautious and know what's going to happen next before the event takes place.
Deku vs Shigarkai will most certainly take place in the future chapters to come. But considering the physical state both of them are in, it is highly unlikely that the fight will take place in the very next chapter.
My Hero Academia Chapter 296 Spoilers
The Spoiler for My Hero Academia Chapter 296 has not been released. It usually takes 4-5 days to release after the previous chapter. Such spoilers are basically raw scans that have been leaked online and translated by fellow weebs. They contain only the main scenes and very little translations. We will make sure to update this article if and when we receive proper spoilers of My Hero Academia Chapter 296.
Where to Read My Hero Academia Chapter 296?
My Hero Academia Chapter 296 is available to read on Viz or Mangaplus. Since the manga is a weekly shonen manga, it will release a new chapter every week. But do make sure to stay updated with Spoilerguy as there might be slight delays in the release dates due to various reasons.
About My Hero Academia
My Hero Academia is a Japanese shounen manga series written by Kōhei Horikoshi. It is superhero anime with jaw-dropping fight sequences combined with top-notch animations. The story revolves around a boy named Midoriya Izuku who is born without a quirk in a world where most people have quirks. He idolizes All Might who is the symbol of peace and is considered the No.1 hero of all time.
All Might one day finds young Midoriya to be worthy of his Quirk due to his determination to save people. So he passes his quirk onto him in all hope to make him the next symbol of peace. Young Midoriya joins the U.A high school to become the No.1 hero of all time. Here is the trailer for My Hero Academia anime –
Well, guys that is all for today's blog on My Hero Academia Chapter 296. A small insight on the previous chapter and a few predictions of the next chapter should have gotten you hyped up now. While you wait for the latest chapter to air, make sure to read Eren's Death, Will Eren Die in Attack on Titan – Ymir's Curse
Make sure to follow our Instagram for exclusive anime news: @TheSpoilerGuy 
You can also follow us on Twitter: SpoilerGuy
Make sure to like our Facebook page as well: The Spoiler Guy.