In this post, we are going to talk about the Top 25 Ecchi anime you should watch in 2020. This year has been pretty sad and eventful, so maybe one of these animes will make you feel good and joyful with the help of some ecchi animes.
Top 25 Ecchi Anime
Ecchi basically means alluring in Japenese. Ecchi animes are the best kind of animes to exist. With a full set of Beautiful girls a very ecchi Plot and a Handsome MC. People sometimes like to Dwell in Echhi Animes too much. So I Bring forward to you, the best 25 Ecchi Anime to watch in 2020. Watch these with Caution because all these amines are filled with some erotic scenes.
So, let us begin!
25. Seikon No Qwaser
Seikon no qwaser is a very quirky anime. It has romance action and a lot of battles. In other words, has a balance of all the aspects we crave for in an anime. Here the main character goes through a lot of change in terms of character development and in the end is successful in completing her mission. This is a good entry to start our list of top ecchi anime.
24. Kanokon
Kanokon is good for a one-time watch. Here the guy moves to a city to attend high school and comes under the attention of fox spirit for being friends with two young girls from his school. It comes under harem and has a lot of sexual freedom. Might not make a lot of sense but it is entertaining. Thus being a worthy contender for Top ecchi anime
23. Prison school
Prison school starts with how an all girl's school turns to be co-ed. The main character is one of the five boys to take admission in the school among 1000 other girls. Since the school has too strict rules the main character gets himself into trouble him inside the prison school. It is overall amazing and entertaining and one of the Top ecchi anime.
22. Okusama ga Seitokaichou
Okusama ga seitokaichou is about a student council Hayato and to his totally opposite Ui who promises the school with totally different propositions. It is totally entertaining especially later when they get stuck with each other. It has super ecchi scenes and a must-watch if you like to watch one of the Top ecchi anime which is also a good comedy.
21. Is this a zombie
Is this a zombie is about a guy being murdered by a serial killer and being brought back to life as a zombie. It has huge fights with monsters called Megalos, and the viewers will find the episodes exciting. In the first season, the second season was a lot different. It is a fun series and many might find the first season worth watching thus also being one of the Top ecchi anime out there.
20. No game no life
No game no life is an unrealistic and bizarre anime. It is about how two siblings Sora and Shiro who have a different perspective on everything happening in their life. This anime will be loved by online gamers. It takes a turn when the siblings encounter a challenge for a game of chess and later meet the god of games. Too unreal but it's enjoyable and amusing at the same time. We need a season 2 tho pls! GOATED ECCHI ANIME
19. Campione!
Campoine is an Italian word for the world champion. Here the story revolves around a 16-year-old Godou Kusanagi, who defeats the god of war and takes the position of Campione or god slayer. His job has many difficulties including unwanted attention from girls around him. It is a must-watch since it has a great story and deserves more credit than what it gets and all the characters here have a meaningful existence.
18. Rosario Vampire
Rosario Vampire is a story revolving around the co-existence of vampires and humans. Here the vampire and humans go to the youkai academy and learn subjects like maths, science, etc just like normal people but it has rules. Here the main character Tsukune yona falls for a vampire. It is a perfect ecchi for all those ecchi lovers. Though its manga is not much of ecchi at all.
17. Heaven's lost property
Heaven's lost property revolves around the main character Tomoki whose life turns upside down when a winged angel Ikaros falls from the sky and starts regarding Tomoki as his master. It is a lot entertaining and totally comes under one of the harem ecchi anime. It has great humor and worth giving it a try.
16. Freezing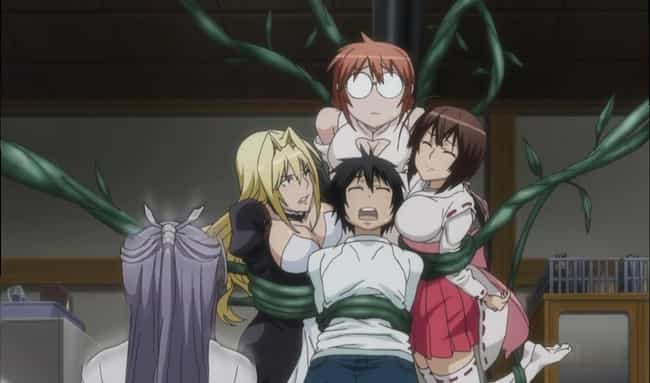 Freezing is another ecchi anime that has a people fight to protect the earth against other dimensional beings called Nova. In order to protect the earth, the pandoras and limiters have to pair up together in order to undo the freezing effect. Her main character Bridget finds it difficult to find a limiter even after being best in the class. It shows a harem school life so will probably be enjoyed by most of the viewers.
15. Demon King Daimao
The story of Demon king Daimao revolves around one of the promising students in the wizard academy who takes the career assessment test and the result that comes out frightens the others and they start treating him differently but still, there is a female called android who is in love with him. There is nudity, action and you will often find yourself smiling looking at the screen.
14. Infinite Stratos
Infinite Stratos is referred in here as an advanced weapon to fight battles that can make unimaginable damage but later they are forced to sign a treaty to avoid such battles. It has its main character as a 15-year-old, Ichika Orimura who has a lot of potentials and soon it is observed by the government and he is granted admission to a prestigious school where IS pilots from all over the world are trained. His high school is surrounded by a lot of girls and is a part of the IS battle which is operated by women. The story revolves around technology, robots, action, love, and comedy, the rest is your choice.
13. DanMachi
This anime is also known as "Is it wrong to try to pick up girls in a dungeon?" the story is about how the gods descend upon the earth and from there own familia. Here the main character Bell Cranel is in search of proper familia but he gets rejected due to his weak features and lack of strength. He then meets the Goddess Hestia and the story revolves around how both of them fight back with all the difficulties and their path and starts up their own familia which is later regarded well by all the gods. It is a must-watch has humor, battles and shows bonding among the characters.
12. Highschool of the dead
The story revolves around the world being stuck by a chaotic outbreak of a pandemic that turns humans into zombies. It revolves around how a group of high school students fights the outbreak. High school of the Dead has a lot of action and nudity, stupidity and is overall very entertaining. It is worth giving every shot.
11. Dakara Boku Wa, H Ga Dekinai
Dakara Boku Wa, H Ga Dekinai anime is about how Ryosuke Kaga gave the essence to Lisara to staying in the world being a Shinigami with smoking hot appearance. She sucks them dry of something more than their years of living. It has plots like gaining ability by getting aroused. Its basically quality entertainment for ecchi lovers.
10. Maken ki
Maken ki is based on magic, its main character is a usual teenage perverted guy. In his school, everyone has a maken which helps them unleash their magical abilities in a duel. It revolves around the maken of the main character Hiromitsu Takeda. It is good for a one time watch anime.
9. To love-Ru
To love-Ru is a sweet harem anime which is based on a 16-year-old Rito Yuuki who has a huge crush on one of his classmate and then he encounters Lala Satalin Deviluke an heiress to an alien empire who wants to marry Rito and in the process avoid a political marriage in meantime Rito still tries to persuade his crush. It might be a bit idiotic but has a lot of humor and harem entertainment.
8. Trinity seven
Trinity seven is about how Arata Kasuga's town gets destroyed due to breakdown phenomena which leads to the disappearance of people but he artificially reconstructs everything using a grimoire given to him by one of his childhood friends. Then he enrolls to a magic school where he joins the trinity seven and they together prevent the destruction of his hometown. The main attraction to this anime is for its characters. It is hilarious and harem based.
7. Monster Musume: Everyday life with monster girls
Monster Musume is another anime that shows the co-existence of humans with mythic beings through an exchange program. Here are the lucky main character, Kurusu Kimihito has to share his flat with a group of mythic ladies. He takes the job of taking care of them such that they don't cause any trouble but instead they fall in love with him. It is pure fantasy and harem based.
6. Kiss x sis
Kiss x sis has its main character as Keita Suminoe, his father remarries and now he gets a stepmother along with two-step twin sisters. The sister's bond with their brother grows into romance and lust. But no matter how much he tries to escape it the sisters try to do everything to get close. It's purely ecchi with a trait of incest.
5. Sekirei
Sekirei has the main character called Minato who fails into getting into a college and later meets a girl who claims to be a superhuman and tells him that he can strengthen girls through sexual contact. Well, the plot may not make much sense but its pure harem.
4. Date a live
Date a live has its main character as Itsuka Shido who lives with his sister. But then there was a spatial quake as he rushes to save his sister, he meets a spirit and names her Tohka who had wiped out humanity 30 years ago. He learns the only way to stop her this time is to date her. Not much of an interesting plot but purely ecchi and entertaining and recommendable for a one time watch.
3. The testament of sister new devil
The plot of this story revolves around Toujo Basara and who suddenly has two step-sisters adopted by their father. Their stepsisters have secret true forms that make the demon lord. Again the plot is not interesting but purely harem based.
2. Ikki Tousen
The story revolves around seven high schools that battle each other for everything in order to gain victory and becoming the top school leading their way. Their main character Sonaku Hakufu aims at uniting the school. The plot isn't that appreciable but based on ecchi.
1. High school Dxd
High school Dxd is known for being one of the top ecchi anime. The story surrounds devils, fallen angels, and humans. It has a mythological background with a lot of humor from the main character, Issei who makes you laugh in the most intense scenes and it also comes under harem which makes the viewers a lot more attracted to this anime.
This is it for this list of Top 25 ecchi Animes to walk in 2020. folks. Hope you had a great time, I hope you know what I mean. Be sure to read our remaining recommendations like  Most Watched Animes, Top Rated Psychological Horror Animes, and Best Thriller Animes.
Also, be sure to follow us on our social media to stay up to date with the latest and greatest anime news.