Romance animes are not everybody's cup of tea. But it does bring peace to one's mind and acts as a break from all the fighting and action animes out there. The following list is based on many factors such as fan service, plot, and character development. So without any further ado let's dive into the Top 5 Romance Animes You Must Watch.
1. Kaichou wa Maid-Sama
Kaichou wa Maid Sama is easily one of the best romance anime to ever exist. The fan service it offers is unbeatable. It has superb comedy and lovely suspense scenes that make you feel like a kid again.
The anime revolves around Misaki who is an exemplary high school student and student president. But she also happens to work part-time at a maid cafe. She tries to keep this a secret from her peers but ends up blowing her cover to a guy named Usui.
Usui falls in love with Misaki after he hears how hard she works to support her family. He promises to keep everything a secret and simultaneously protects Misaki from various scenarios. Their bond and cute moments are definitely something to watch.
This is by far the most complete Romance anime out there with everything ranging from proper character designing to a satisfying happy ending.
2.Kamisama Kiss
Kamisama Kiss is a very popular romance anime series that has some really good comedy. The story revolves around Nanami who becomes a land god due to a surprising turn of events. She meets Tomoe who is a Fox Yokai(spirit) and her guardian. They both face various problems and get through everything together. But when Nanami finds out about Tomoe's past she gets concerned and diverts her focus on being there for Tomoe. This leads her into falling for him even harder than before.A finely tuned anime series with rich comedy, romance, and character development with decent supporting roles in every corner. The events take place in the fantasy realm as well as in the real world. This constant change of pace keeps the viewers asking for more. If you are looking for a desperate serotonin boost and an anime with a happy ending then this is the perfect anime for you.
3. Akagami no Shirayuki-hime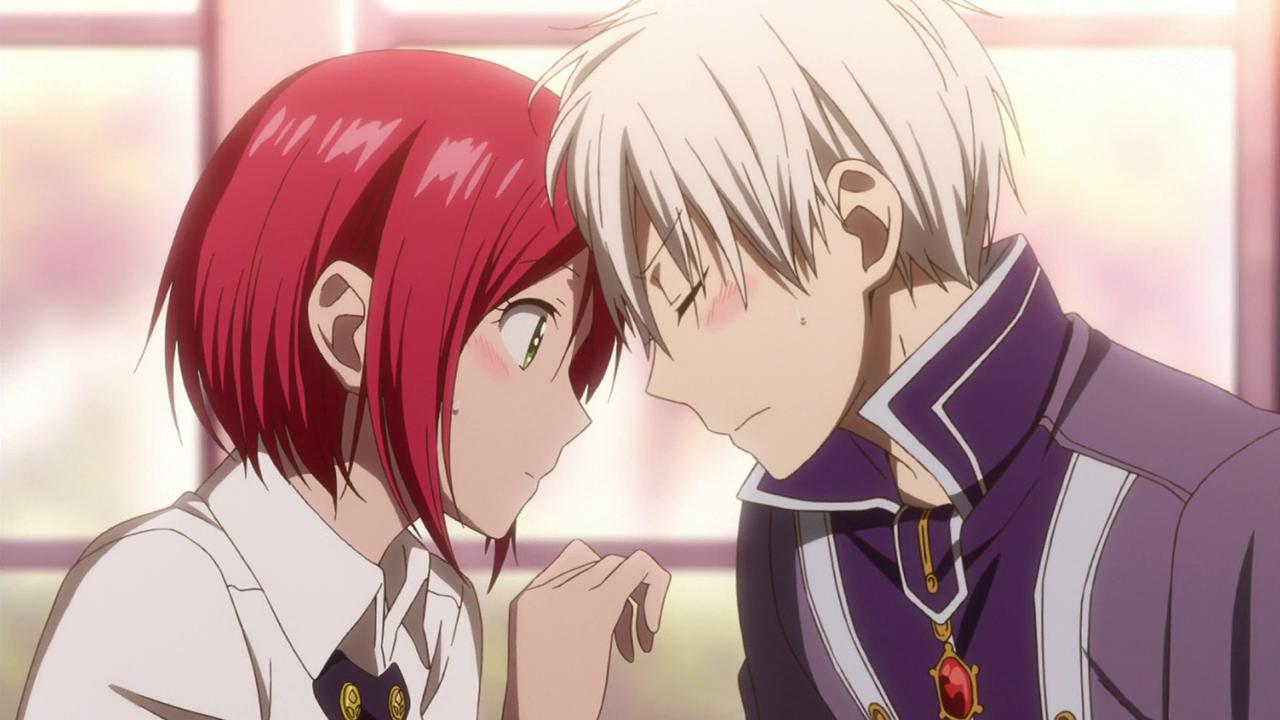 Akagami no Shirayuki-hime is an extremely cute anime. The sweetness in this anime will probably leave you with a sweet tooth. Most people fall in love with Romance animes after watching this. The story is very basic, a girl with red hair meets a charming prince. She later starts working in his castle as a herb specialist, she is exemplary in her work and tries very hard to do her best. Admired by this the prince falls in love with her and their journey starts. They face many obstacles and face them together like a cute couple.
The anime is well-paced and has no drawbacks whatsoever. All the characters are lovable and have their own strengths in the anime. Akagame no Shirayuki-hime is just too pure to watch, the romance and love between the two make you feel happy and warm inside. Definitely, a must-watch if you are into cuteness overload between a couple.
Also, Read Top 10 classic animes like Cowboy Bebop
4. Tsuki ga Kirei
Tsuki ga Kirei is a highschool romance anime. It has almost no comedy and is more of a drama anime. The characters are very adorable and silent lovers. They both are very shy of their feelings and never show much of their emotions to the outside world. As the anime moves forward they open up and a beautiful relationship begins. The misunderstanding, heartbreaks, disappointment, etc are very well depicted in this anime.
This anime has one of the happiest endings ever. The final timelapse in the last episode is to die for. Tsuki ga Kirei is very predictable and not very interesting, but it does have amazing fan service which satisfies the fans beyond their own expectations. Once again I cannot emphasize how good the ending actually is, if you are having a bad time then this anime will help you get back on your feet.
5. Ao Haru Ride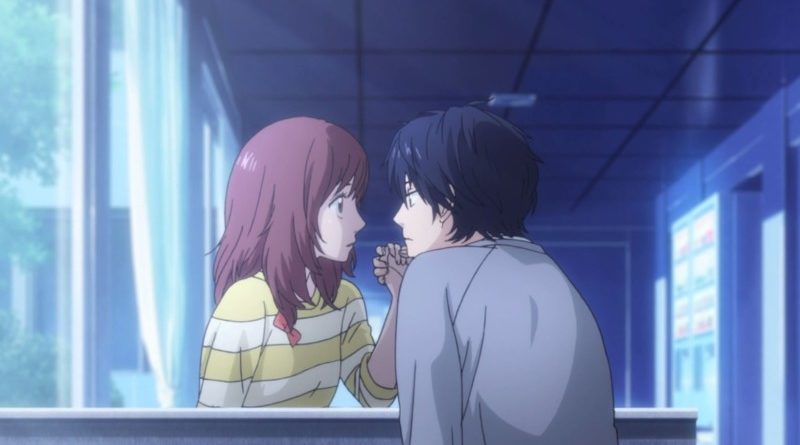 Ao Haru Ride has a very beautiful story. Kou is a boy with a painful past who meets his crush after a few years and subconsciously falls in love with her. Futaba is his crush who also had a mild crush on him during middle school. They both become good friends and form a small group with the supporting characters as well. Futaba slowly helps Kou come out of his despair by attaching herself to him and sharing his pain.
The anime contains a lot of cute moments that occur out of nowhere which is really satisfying to watch. As the story unfolds we look into Kou's character and all the things he had to go through in his past. The overall plot of this anime is beautifully made with a few sequences dedicated to showing the reality of romance between high schoolers. Ao Haru Ride is a heartwarming anime with a really good romance and adorable characters that have different personalities.
Writer's recommendation: Top 10 horror animes that are actually scary
Well, that's what we have for today. Do let us know what do you think about it. Make sure to follow our Instagram for exclusive anime news: @TheSpoilerGuy 
You can also follow us on Twitter: SpoilerGuy
Make sure to like our Facebook page as well: The Spoiler Guy.