Demon Slayer: Kimetsu no Yaiba the Movie: Mugen Train releases in October 2020. The movie features the infinity Train arc with many twists and turns. Tanjiro, Zenitsu, and Rengoku investigate a disturbance on the Mugen train. The main catch in this film is that Enmu, one of the Twelve Kizuki, is on the train. Will Rengoku die in a battle to the death with Enmu? Let's find out.
Does Kyojuro Rengoku Die In Demon Slayer The movie?
Unfortunately yes, The Flame Hashira dies in a heroic battle against an upper-rank demon in order to save 200 passengers on the train. He makes sure to battle with his weakened body until the sun rises. His last words bring tears to the manga readers as he truly upholds the spirit of The Demon Slayer Corps.
The Final words of Kyojuro Rengoku were,                                                                          "Did I do everything right?…. Was I able to fulfill everything I was supposed to carry out"                                                                                     (Addressed to his mother's spirit)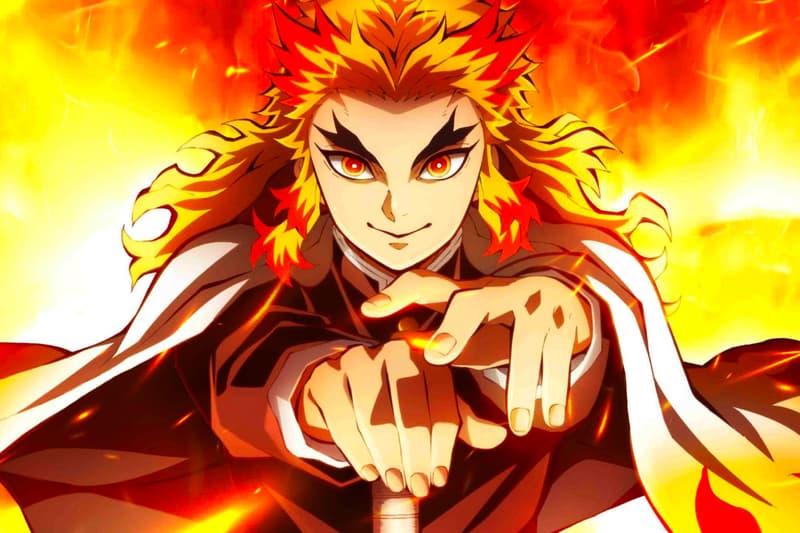 Also, Read: Burn The Witch Season 2 Release Date
How Does Kyojuro Rengoku Die?
Chapter 66 Demon Slayer Manga: Infinity Train Arc
Just as the fight against Enmu comes to an end, Rengoku appreciates Tanjirou for his total concentration breathing. But all is not over as Akaza ( an upper rank 3 demon) appears out of nowhere. Rengoku strikes first slicing off Akaza's arm. But he spontaneously regenerates and asks Rengoku to become a Demon. Akaza had already deducted the power of Rengoku by just looking at him. They both begin their battle with enormous speed invisible to the naked eye.
#NEWS Fall deeper into an endless dream with the brand new trailer from "Demon Slayer -Kimetsu no Yaiba- The Movie: Mugen Train" featuring theme song "Homura" by LiSA!

The film hits theaters across the USA and Canada in 2021! pic.twitter.com/FkWQNTi2gY

— Demon Slayer: Kimetsu no Yaiba USA (@DemonSlayerUSA) August 2, 2020
As the fight continues Rengoku uses  Flame Breathing: Fifth Form – Flame Tiger as Akaza unleashes his Destructive Death: Disorder. This creates an enormous smoke cloud, causing Rengoku to lose his left eye due to the impact. Akaza goes on to persuade Rengoku into becoming a demon in order to heal himself.
Rengoku musters enough strength to pull out another attack, this time leading a devastating blow. Akaza's hand pierces Rengoku's stomach, this injures him seriously. He remembers his mother's words and regains a little power solely using will power. He drives his sword further into Akaza's neck and the sun starts to rise.
Akaza tries his best to escape the clutches of Rengoku but fails, Tanjirou musters enough strength to move towards Akaza to strike the final blow. But Tanjiro is too late as Akaza manages to run away into the forest as Rengoku loses his strength. Tanjiro calls Akaza a coward and announces Rengoku as the winner of the battle as he intends to battle till his death.
Check out: Demion Slayer The Mugen Train gets a Novel Version
The Death of Rengoku
Rengoku calls Tanjiro to listen to his final words. He commands tanjiro to keep his chest high. He also says it is natural for a Hashira to shield his juniors. Rengoku sees his mother and asks if he did well as he slowly passes away. Tanjiro, zenitsu, and Inosuke start crying, all the other Hashira's receive the message of his death. The death of rengoku leaves the Hashira's in a sad and emotional state. But in the end, he saved 200 passengers with his own life.
Must Read: Sword Art Online Progressive light novel gets anime adaptation
About anime
The best anime of 2019 by Crunchyroll was awarded to Demon Slayer: Kimetsu no yaiba. This Japanese manga written by  Koyoharu Gotōge is an absolute masterpiece. The morals and mentality of the main protagonist is an admirable aspect of this anime, thus, expressing the quality of character development. The fights are portrayed in a fluent yet intense and colorful manner. The narrative is perfectly paced and addictive due to little hints of suspense placed throughout the anime. Do check out the latest trailer of Demon Slayer – Kimetsu no Yaiba – The Mugen Train
Well, that's what we have for today. Do let us know what do you think about it. Make sure to follow our Instagram for exclusive anime news: @TheSpoilerGuy 
You can also follow us on Twitter: SpoilerGuy
Make sure to like our Facebook page as well: The Spoiler Guy.